What is OER Awareness Week?
Open Education Resource Awareness Week (OER Awareness Week) is an annual celebration, celebrated around the globe by actively sharing and learning about the latest achievements in Open Education worldwide.
These resources are important, because they not only offers educators a wide variety of materials to build an effective class without having to start from scratch, but they also provide affordable material to students, by removing irrelevant content, adding one's own content, and combining parts of resources together, to ensure materials are contextualized to a specific course.
OE Awareness Week's mission is to provide practitioners, educators and students an opportunity to gain a greater understanding of open educational practices and be inspired by the wonderful work being developed by the community around the world.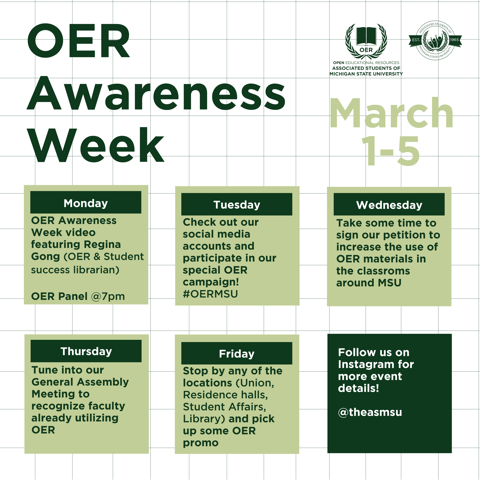 This was extremely helpful to me because otherwise I would not have been able to buy a textbook for this class, especially after the pandemic. It would be wonderful to see this become more widespread. – PSY 251
There are hundreds of reasons just in terms of quality of life that OER is better, not even just cost. Being able to press Ctrl+F to look up key terms, being able to print to PDF any pages that you want separately in a condensed and easy to find place, etc. – MTH 314
Overall, I had a very good experience with this book, it helped me understand the concepts I had been learning in class and it reduced my stress of being able to buy so many books for the semester, especially since I did not have the money around that time to buy actual textbooks . . . So it really helped this semester! – CEM 141
I want to genuinely thank you for using this online textbook! For the first month, I believed it was only a trial because it was too good to be true. – CEM 142
I like the idea of a free textbook. It really helps us students who have high expenses that's just starting out at MSU. It's a nice break from those $200+ books that really aren't used at all. Free textbooks are great because you are already paying for the class. – STT 200
It really helps that it is free. I have to make very expensive payments on my schooling each semester so I really appreciate when a textbook is free. – STT 231
Regina Gong –
OER & Student Success Librarian
As OER & Student Success Librarian, Regina provides overall leadership to the MSU Libraries OER Program working with faculty to support them in using OER as course learning materials. She also oversees the OER Award Program, which grants faculty funding to adopt, adapt, and create OER. Also, Regina manages the open textbook publishing program, which enables faculty to publish OER using Pressbooks.
Interested in learning more about the OER Program? You can contact Regina Gong, OER & Student Success Librarian at MSU Libraries at her email: gongregi@msu.edu